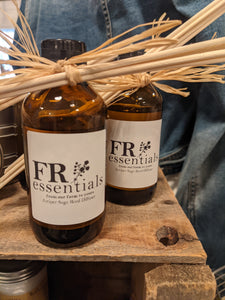 Check out our NEW reed diffusers.  Ditch your old dirty candle for these clean and non toxic diffusers.  We have many luxurious scents to choose from.  These diffusers can last up to 6 months.  Perfect for anywhere in the home or office.
Autumn Fig: You'll love the mix of apple, lemon, ginger, fig, caramel, cinnamon, coffee, twigs, and forest.
Christmas Spice: It's a comforting mix of cinnamon sugar, mocha, thyme, nutmeg, and candied ginger.
Juniper Sage: Fresh and clean scent with notes including evergreen tree, juniper, sage, bergamot, geranium, and amber.
Cashmere: Mix of blueberry, white freesia, wild grape, pomegranate, lily, magnolia, green vines, cashmere, and violet is hard to beat.
Gingerbread Man: You'll love the notes of orange, cardamom, raisin, clove, cinnamon, rum, vanilla extract, gingerbread, and tonka.
Serenity: It's a fresh mix of lavender, rosemary, rose, lilac, pear, clove, sandalwood, and geranium. It also contains rosemary, cedarwood, and clove essential oils.
Vanilla Sugar: Just like it sounds.  Notes of vanilla with sweet sugar swirled through
Frosted Fur: You'll love this spruced up seasonal scent! It's a sweet mix of wild berry, pineapple, pacific breeze, silver fir, blue spruce, plumeria, and musk.
Vanilla Apple Cinnamon: It's a comforting mix of coconut, lemon, lime, apple, cinnamon, and clove. It also has base notes of ylang ylang, sugar, and creamy vanilla.